Dishes with mustard seeds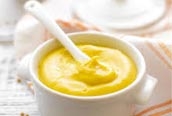 2016-08-02
Mustard seeds have been known for thousands of years. They have a bitter, pungent taste that gives food a distinctive spicy flavour. Mustard seeds are mainly used in the production of mustard and various spice blends. Nowadays, mustard seeds are associated as the key ingredient of prepared mustard, a well-known condiment.
Mustard seeds as also the main component of spice mixes or blends, where they are often used as a preservative. They are an indispensable addition to roasted meats, sausages or canned fish.

Mustard honey (made from mustard plant flowers) prevents cold, It also warms and strengthens the body.